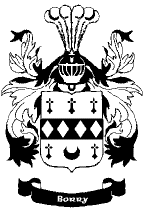 Genealogy of the Family Boeree (Borry)
---
Peter Borry, born circa 1560 in Poperinghe (in what is now Belgium), a weaver of damask, fled to Haarlem circa 1583 to avoid persecution. His son, Michiel, starts the Haarlem (the Netherlands) branch of this family: By the time we reach the third generation after Michiel, the name has changed to Boeree. Although the name is a rare one, Boerees can be found all over the world!
The name Boeree derives from the French bourrée, which is a peasant clog dance as well as the music that accompanies it. Originally, it meant anything that was stuffed or bundled, such as a bundle of firewood or a mattress. The dance was probably originally performed around a bonfire, hence the name.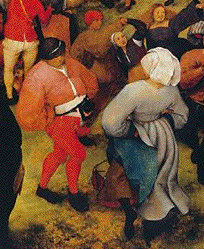 It is the past participle of bourrer, meaning to fill or stuff a cushion or mattress with wool, down, or other materials. In turn, bourrer is the verb form of bourre, from the Latin burra, meaning raw wool, used for stuffing. (The word has also been used over the centuries as slang for duck, policeman, and drunk!)
It is also the name of two towns in France. One is Bouré, a village in Loir-et-Cher (north central France) on the Cher River, east of Tours. The other is Borre, near Belgium, a few miles east of Hazebrouck and not far from Poperinghe. It is on the creek called Borrebecque, which empties into the small river called Bourre. The Bourre in turn empties into the Lys, which winds its way up to Ghent, the Schelde, and finally the North Sea. This village is likely to have been the origin of our family.
In the chart below, the numbers refer to generations. Children follow their parents as closely as possible, but may be separated by an older sibling's many descendants.
[Regarding the Coat of Arms, above: Borry (Furnes, ou Vournes, Belgique) -- D'argent à la fasce de sable, ch. de quatre losenges du champ, et acc. en chef de trois mouch. d'herm. et en pointe d'un croiss. entre deux mouch. d'herm., le tout du second. This is the most likely coat of arms connected with this family. No direct heraldic claims are being made! To see other possible coats of arms, click here.]
---

Descendants of Peter BORRY

1 Michiel BORRY (Later BOEREE) 1580 -
.... +Geleijne CLAES
......... 2 Jannekje BORRY (Later BOEREE) 1604 -
......... 2 Maria BORRY (Later BOEREE) 1605/06 -
......... 2 Pieter Michiels BORRY (Later BOEREE) 1608/09 -
............... +Dirkje GERRITS
......... 2 Johan Michiels BORRY (Later BOEREE) 1610 -
............... +Agniesje CLAES
.................... 3 DIRK JANSZ BOEREE 17 march 1636 -
.......................... +Cornelia Gijsbert EMANS
............................... 4 Johannes BOEREE 1659/60 - 1721
............................... 4 Gysbert Dirks BOEREE 1661 - 1738/39
...................................... +Jannetje CLAES
........................................... 5 Claes Gijsbertsz BOEREE 1683/84 -
................................................. +Gerritje (Guurtje) MAARTENS JONKERS - 1764
...................................................... 6 Neeltje BOEREE 1713/14 - 1784
...................................................... 6 Elisabeth BOEREE 1716 - 1765
...................................................... 6 Gijsbert BOEREE 1725 - 1800
............................................................ +Elisabeth WIJNKAMP - 1788
................................................................. 7 Gerritje or Guurtje BOEREE 1754 - 1835
....................................................................... +Hendrik van Leyden
................................................................. 7 Maria BOEREE 1756 - 1813
....................................................................... +Gerrit Klant
................................................................. 7 Gysbert BOEREE 1760 - 1761
........................................... 5 Dirk Gijsbertsz BOEREE 1685/86 - 1720
................................................. +Lijsbeth HENDRIKS
...................................................... 6 Sara BOEREE 1713 - 1775
............................................................ +Willem Ruijfrok
...................................................... 6 Dirk BOEREE 1720/21 -
........................................... 5 Johannes BOEREE 1687 -
........................................... 5 Laurens BOEREE 1688 -
........................................... 5 Annetje BOEREE 1689 -
........................................... 5 Johannes BOEREE 1695/96 -
............................... *2nd Wife of Gysbert Dirks BOEREE:
...................................... +Catharina VERMEER
........................................... 5 Frans BOEREE 1703/04 -
.................... *2nd Wife of DIRK JANSZ BOEREE:
.......................... +Aerjaentje THOMAS m 25 jan 1666
............................... 4 Jacobus BOEREE 1666 -
............................... 4 Catharijne BOEREE 1667 -
............................... 4 Agniesje BOEREE 1669 -
............................... 4 Claes BOEREE 1671 -
............................... 4 Claes Dircksz BOEREE 28 may 1673 -
...................................... +Marijtje PIETERS 1673 -
........................................... 5 Aerjaentje BOEREE 1697 - 1766
................................................. +Abraham LOURENTS
........................................... 5 Dirk BOEREE 1706/07 -
........................................... 5 Pieter BOEREE 1708 -
........................................... 5 Jan BOEREE 29 june 1710 -
................................................. +Stijntje CASTELEIJN 1705 - 1780 m 25 nov 1731
...................................................... 6 Pieter BOEREE 1733 - 1807
............................................................ +Josijntje TOORNENBURG 1733 - 1792 m
................................................................. 7 Lijsje BOEREE 1756 - 1846
....................................................................... +Fred Heijdenrijk
................................................................. 7 Jan BOEREE 1759 - 1831
....................................................................... +Metje van der BURG
............................................................................ 8 Elisabeth BOEREE 1781 - 1782
............................................................................ 8 Pieter BOEREE 1783 - 1833
................................................................................... +Jacoba Smit
............................................................................ 8 Josina Jansdochter BOEREE 1784 -
................................................................................... +Gerrit van Egmond
............................................................................ 8 Antonie BOEREE 1786 - 1803
............................................................................ 8 Alida BOEREE 1788 - 1791
............................................................................ 8 Dirk BOEREE 1791 - Unknown
............................................................................ 8 Willem BOEREE 1792 -
............................................................................ 8 Hendrik BOEREE 1795 -
................................................................................... +Jannetje Jonas
................................................................. *2nd Wife of Jan BOEREE:
....................................................................... +Maria van HEULEN
............................................................................ 8 Jan BOEREE 1797 -
............................................................................ 8 Jacobus BOEREE 1799 -
................................................................................... +Maria de Bruin
............................................................................ 8 Maria BOEREE 1802 -
............................................................................ 8 Antonie BOEREE 1803 - 1849
................................................................................... +Hendrika van Alphen
........................................................................................ 9 Jan BOEREE 1827 -
........................................................................................ 9 Hendrika Maria BOEREE 1828 -
........................................................................................ 9 Pieter BOEREE 1832 -
........................................................................................ 9 Egbertus BOEREE 1839 -
.............................................................................................. +Wilhelmina Klanderman 1846 -
................................................................................................... 10 Antonie BOEREE 1868 -
................................................................................................... 10 Willemijntje BOEREE 1870 - 1878
................................................................................................... 10 Jan Hendrik BOEREE 1872 -
................................................................................................... 10 Willemijntje BOEREE 1878 -
................................................................................................... 10 Hendrika Wilhelmina BOEREE 1879 -
................................................................................................... 10 Egbertus BOEREE 1883 -
......................................................................................................... +Cornelia Johanna Hensen 1886 -
.............................................................................................................. 11 Egbertus BOEREE 1909 -
.............................................................................................................. 11 Cornelis Johannes BOEREE 1913 -
.............................................................................................................. 11 Leendert BOEREE 1916 - 1993
.................................................................................................................... +Johanna Jacoba Slinge 1915 -
......................................................................................................................... 12 Cornelis Johannes L. BOEREE 1939 -
................................................................................................................................ +Nelly de Jong 1942 -
..................................................................................................................................... 13 Monique Ellen BOEREE 1966 -
..................................................................................................................................... 13 Martin BOEREE 1969 -
......................................................................................................................... 12 Johannes Jacobus BOEREE 1945 -
......................................................................................................................... 12 Egbertus BOEREE 1949 -
................................................................................................................................ +Paula Isobel Notenboom
..................................................................................................................................... 13 Sandra Isobel BOEREE 1972 -
..................................................................................................................................... 13 Ruud William BOEREE 1976 -
......................................................................................................................... 12 Linda Christina BOEREE 1952 -
................................................................................................... 10 Willemina BOEREE 1887 -
......................................................................................................... +Ernst Andreas Lohman 1885 -
.............................................................................................................. 11 Hendrik Ernst Lohman 1916 - 1984
.................................................................................................................... +Adriana Sussanna de Vink
......................................................................................................................... 12 Willemina Lohman 1948 -
................................................................................................................................ +Marinus Johan Vermeule 1948 -
..................................................................................................................................... 13 Susanne Tamara Vermeule 1974 - 2001
........................................................................................................................................... +Jozef Petrus Gerardus Veldman 1972 -
................................................................................................................................................ 14 Anne Fleur Veldman 1999 -
..................................................................................................................................... 13 Sebastiaan Rogier Vermeule 1977 -
......................................................................................................................... 12 Johannes Hendrik Lohman 1951 -
.............................................................................................................. 11 Egbertus Lohman 1918 - 1945
........................................................................................ 9 Hermanus BOEREE 1841 -
........................................................................................ 9 Alida BOEREE 1846 -
............................................................................ 8 Geertruida Elisabeth BOEREE 1806 -
................................................................................... +Pieter Bon
............................................................................ 8 Hermanus BOEREE 1811 -
................................................................. 7 Paulus BOEREE 1760 - 1760
................................................................. 7 Pieter BOEREE 1761 - 1818
....................................................................... +Hester de VINCK 1765 - 1816
............................................................................ 8 Pieter BOEREE 1786 - 1829
................................................................................... +Cornelia Willemse
............................................................................ 8 Jan BOEREE 1788 - 1869
................................................................................... +Maria van MAAS 1798 - 1867
........................................................................................ 9 Hendrik BOEREE 1823 -
........................................................................................ 9 Anthony BOEREE 1831 - 1917
.............................................................................................. +Maria Hendrika DOUGLAS 1833 - 1913
................................................................................................... 10 Jan BOEREE 1864 - 1932
......................................................................................................... +Pietje COMELLO 1887 - 1963
................................................................................................... *2nd Wife of Jan BOEREE:
......................................................................................................... +Catharina Jacoba GROENENDAAL 1862 - 1901 (daughter of J. G. Groenendaal and Dina Helena Gielen)
.............................................................................................................. 11 Dina Helena BOEREE 1889 - 1901
.............................................................................................................. 11 Jan BOEREE 1890 - 1952
.............................................................................................................. 11 Anthonie BOEREE 1892 - 1995
.............................................................................................................. 11 Catharina Jacoba BOEREE 1893 -
.............................................................................................................. 11 Gerard Johannes BOEREE 1895 - 1956
.............................................................................................................. 11 Maria Hendrika BOEREE 1897 -
.............................................................................................................. 11 Johannes Cornelis BOEREE 1901 -
.................................................................................................................... +Maria GROTENHUIS 1904 - 1954
......................................................................................................................... 12 Jan BOEREE 1929 -
................................................................................................................................ +Willy KLINGERS 1928 -
..................................................................................................................................... 13 Hendrik BOEREE 1957 -
..................................................................................................................................... 13 Lilian BOEREE 1959 -
..................................................................................................................................... 13 Lex BOEREE 1962 -
......................................................................................................................... 12 Anton Hendrik BOEREE 1931 -
................................................................................................................................ +Geertje W. R. NIEUWHOF 1932 -
..................................................................................................................................... 13 René Theodoor BOEREE 1957 -
..................................................................................................................................... 13 Jos Peter BOEREE 1959 -
..................................................................................................................................... 13 Sylvia BOEREE 1961 -
......................................................................................................................... 12 Maria BOEREE 1933 -
................................................................................................................................ +Pieter den BLAAUWEN 1927 -
......................................................................................................................... 12 Johanna BOEREE 1935 -
................................................................................................................................ +Pieter Jan FRIS 1929 -
......................................................................................................................... 12 Willemina Gerarda BOEREE 1938 -
................................................................................................................................ +Adriaan NIEUWHOFF 1933 -
......................................................................................................................... 12 Catharina Jacoba BOEREE 1942 -
................................................................................................... *3rd Wife of Jan BOEREE:
......................................................................................................... +Allegonda Jacoba Adriana ALBERDING 1873 - 1926
........................................................................................ 9 Pieter BOEREE 1834 - 1889
.............................................................................................. +Maria Catharina Seel 1833 - 1918
................................................................................................... 10 Jan BOEREE 1859 - 1860
................................................................................................... 10 Jan BOEREE 1861 - 1926
...................................................................................................... +Maria Boeré 1861 - 1942
..............................................................................................................11. Maria Catharina
................................................................................................................+ Willem van den Heuvel (1887 - 1963)
.........................................................................................................................12. Maria (1914 - 2004)
...........................................................................................................................+ Jan van Giffen (1903 - 1990)
.....................................................................................................................................13. Reitze Willem (1945)
.....................................................................................................................................13. Maria  Catharina  (1946)
.....................................................................................................................................13. Idskje (1949)
  ........................................................................................................................................+ Ole Christian Bijster (1945)
................................................................................................................................................14. Ingeborg
................................................................................................................................................14. Marieke
................................................................................................................................................14. Kirsten
.........................................................................................................................12. Trijntje (1916 - 2009)
......................................................................................................................... + Frans Jacobus Korteweg (1917 - 1990)
.........................................................................................................................12. Wim (1921 - 1996)
.........................................................................................................................+ Gerda van Wattingen (1925 - 2007)
..............................................................................................................11. JacobusBoeree (1888)
................................................................................................................+ Yda de Jong (1888)
................................................................................................................+ Anna Maria Dikkeboom (1887)
..............................................................................................................11. PieterBoeree (1891)
................................................................................................................+ Paulina Maria Borch (1895)
..............................................................................................................11. Jan Boeree (1892)
................................................................................................................+ Eilarda Groen (1898)
..............................................................................................................11. Jacoba Boeree (1895 - 1980)
.................................................................................................................+Arie Rol (1899 - 1962)
..............................................................................................................11. Charles Boeree (1897 - 1899)
..............................................................................................................11. Charles Boeree (1899 - 1989)
  ................................................................................................................+Nicolina Bunneke (1899 - 1971)
..............................................................................................................11. Hendrik Johan Boeree (1901 - 1978)
................................................................................................................+Elisabeth Kaptein (1905 - 1993)
..............................................................................................................11. Johanna Maria Boeree (1902)
................................................................................................................+Govert van de Wel (1900)
................................................................................................... 10 Hendrica Maria BOEREE 1863 -
................................................................................................... 10 Pieter BOEREE 1866 -
................................................................................................... 10 Johan Christiaan BOEREE 1868 - 1868
................................................................................................... 10 Johan Christiaan BOEREE 1869 - 1945
......................................................................................................... +Jacoba Maria van ASTEN 1872 - 1926
.............................................................................................................. 11 Pieter BOEREE 1896 - 1955
.............................................................................................................. 11 Cornelis George BOEREE 1897 - 1931
.................................................................................................................... +Elisabeth Maria TIJMAN 1899 - 1963
......................................................................................................................... 12 Johan Christiaan BOEREE 1920 - 1976
................................................................................................................................ +Anna Clasina DE WEERD 1926 - 2002
..................................................................................................................................... 13 Ingrid Johanna BOEREE 1956 -
........................................................................................................................................... +Ijaz Qayyum BUTT 1947 -
..................................................................................................................................... 13 Linda Joan BOEREE 1969 -
........................................................................................................................................... +Raymond Henry George LAGERWEY 1964 -
......................................................................................................................... 12 Cornelis George BOEREE 1930 - 2008
................................................................................................................................ +Eberdina van OLFFEN 1930 -
..................................................................................................................................... 13 Cornelis George BOEREE 1952 -
........................................................................................................................................... +Judith Marion KOVARIK 1951 -
................................................................................................................................................ 14 Jennifer Marie BOEREE 1975 -
.......................................................................................................................................................+Steven "Staks" Rosch
............................................................................................................................................................15 Orion Lucas Rosch 2009 -
............................................................................................................................................................15 Lyra Sophia Rosch 2011-
................................................................................................................................................ 14 Meredith Eberdina BOEREE 1983 -
................................................................................................................................................ 14 Kathryn Elizabeth BOEREE 1986 -
..................................................................................................................................................... + Ashley Kline 1984 -
..................................................................................................................................... 13 Vendel BOEREE 1954 -
........................................................................................................................................... +Arlene KJELLMAN 1950 -
................................................................................................................................................ 14 Carla Erica BOEREE 1977 -
...................................................................................................................................................... + Rufino Mendez
............................................................................................................................................................15 Rufino Mendez
............................................................................................................................................................15 Hayley Mendez
............................................................................................................................................................15 Jacob Mendez
............................................................................................................................................................15 Tiffany Mendez
...................................................................................................................................................... + Danielle 1988 -
.............................................................................................................................................................15 Nico BOEREE 2016 -
................................................................................................................................................ 14 Sean Eric BOEREE 1983 -
...................................................................................................................................................... + Lindsay Faith
.............................................................................................................. 11 Maria Elisabeth BOEREE 1900 - 1987
.............................................................................................................. 11 Johan Christiaan BOEREE 1907 - 1957
.................................................................................................................... +Maria Elizabeth Johanna Cornelia van VEGGEL 1909 - 1971
......................................................................................................................... 12 Maria Jacoba BOEREE 1940 -
.............................................................................................................. 11 Jacoba Maria BOEREE 1909 - 1975
................................................................................................... 10 Hendrik Lodewijk BOEREE 1874 -
........................................................................................ 9 Hermanus BOEREE 1837 -
........................................................................................ 9 Jacoba BOEREE 1841 -
............................................................................ 8 Elisabeth BOEREE 1792 - 1801
............................................................................ 8 Maria BOEREE 1794 -
............................................................................ 8 Cornelia BOEREE 1796 - 1842
................................................................................... +Jan Frans Nieukemper
............................................................................ 8 Josina BOEREE 1798 - 1802
................................................................. *2nd Wife of Pieter BOEREE:
....................................................................... +Pieternelletje de WINT
................................................................. 7 Chrisje BOEREE 1765 - 1852
....................................................................... +Jan HOONING
................................................................. 7 Anthony (or Antonie) BOEREE 1767 - 1833
....................................................................... +Anna Maria BOSCHARDT or Borchardt
............................................................................ 8 Anthony George BOEREE 1796 - 1844
................................................................................... +Catharina WEITZE 1794 - 1854
........................................................................................ 9 Anthonie Johan Herman #1 BOEREE 1815 - 1815
........................................................................................ 9 Anthonie Johan Herman BOEREE 1820 -
.............................................................................................. +Johanna Frederica Barbera van der Held 1818 -
........................................................................................ *2nd Wife of Anthonie Johan Herman BOEREE:
.............................................................................................. +Mathilda van Straaten
................................................................................................... 10 Anthony BOEREE 1860 - 1940
......................................................................................................... +Alice Ruth CHAPMAN - 1946
.............................................................................................................. 11 Frederick James BOEREE 1889 -
.................................................................................................................... +Rose Alice CHUDLEIGH - 1956
......................................................................................................................... 12 Ronald Edward Anthony BOEREE 1918 - 1995
................................................................................................................................ +Pamela Gladys FLOWERS 1918 -
..................................................................................................................................... 13 Rosemary Anne BOEREE 1941 -
..................................................................................................................................... 13 Christopher Peter James BOEREE 1949 -
........................................................................................................................................... +Julia
................................................................................................................................................ 14 Alexandra BOEREE 1976 -
................................................................................................................................................ 14 Olivia BOEREE 1984 -
..................................................................................................................................... 13 Annette Pamela BOEREE 1953 -
.............................................................................................................. 11 Anthony BOEREE 1891 - 1936
.................................................................................................................... +Ethel M. TAYLER
.............................................................................................................. 11 Alfred Reginald BOEREE 1893 - 1970
.................................................................................................................... +Elsie Mary ORCHARD 1892 -
......................................................................................................................... 12 Eileen Mary BOEREE 1924 - 2005
................................................................................................................................ +John E. Herrington 1927 - 1947
......................................................................................................................... *2nd Husband of Eileen Mary BOEREE:
................................................................................................................................ +William A. Garvey 1924 - 2009
..................................................................................................................................... 13 Joseph William Garvey 1955 - 2009
..................................................................................................................................... 13 Michael John Garvey 1960 -
......................................................................................................................... 12 John Anthony BOEREE 1928 - 1992
................................................................................................................................ +Margaret Elizabeth OWENS 1930 -
..................................................................................................................................... 13 Janet Elizabeth Marianne BOEREE 1957 -
..................................................................................................................................... 13 Paul Anthony BOEREE 1959 -
..................................................................................................................................... 13 Simon John BOEREE 1960 -
..................................................................................................................................... 13 Katrina Mary BOEREE 1962 -
......................................................................................................................... 12 Bruce Henry BOEREE 1930 - 1992
............................................................................................................................... + Margaret Constance Good 1932 -
...................................................................................................................................... 13 Nicholas Reginald BOEREE 1958 - 2012
............................................................................................................................................ + Alison Jane Rigby 1957 -
............................................................................................................................................... 14 Catherine Margaret BOEREE 1989 -
............................................................................................................................................... 14 Alexandra Elizabeth BOEREE 1993 -
............................................................................................................................................... 14 Henry Frederick BOEREE 1994 -
....................................................................................................................................... 13 Caroline Jane BOEREE 1960 -
............................................................................................................................................ + Richard John Muddle 1960 -
............................................................................................................................................... 14 Nicholas Oliver Keldas Muddle 1988 -
.................................................................................................................................................... + Julia Dorrington
............................................................................................................................................... 14 Hannah Louise Aira Muddle 1992 -
............................................................................................................................................... 14 Matthew John Henry Fairfield Muddle 1995 -
....................................................................................................................................... 13 Giles Roger BOEREE 1963 -
............................................................................................................................................. + Patricia Jane Griffiths 1964 -
................................................................................................................................................ 14 Bruce Alexander Griffith BOEREE 1996 -
................................................................................................................................................ 14 Constance Louisa BOEREE 1999 -
................................................................................................................................................ 14 Theodore Charles Kai BOEREE 2002
................................................................................................... 10 Frederick St.John BOEREE 1866 -
......................................................................................................... +Imelda CLARKE
.............................................................................................................. 11 Matilda Imelda BOEREE 1902 -
.................................................................................................................... +George Nicholas MORGAN 1904 -
......................................................................................................................... 12 Alan John MORGAN
......................................................................................................................... 12 Joan Imalda MORGAN 1928 - 1950
................................................................................................................................ +Kenneth William Pascoe 1926 -
..................................................................................................................................... 13 Bronwijn Joan Pascoe 1951 -
............................................................................ 8 Josina Elisabeth BOEREE 1798 -
............................................................................ 8 Jan Herman #1 BOEREE 1804 -
............................................................................ 8 Jan Herman #2 BOEREE 1806 -
................................................................. 7 Caatje BOEREE 1770 -
................................................................. 7 Marietje BOEREE 1771 - 1852
................................................................. 7 Evert BOEREE 1774 - 1778
................................................................. 7 Hendrik BOEREE 1776 - 1779
................................................................. 7 Anna BOEREE 1778 -
............................................................................ 8 Johannes Hermanus BOEREE 1799 -
............................................................................ 8 Johanna Josina BOEREE 1802 -
...................................................... *2nd Wife of Pieter BOEREE:
............................................................ +Jansje van DIJK - 1803
...................................................... 6 Kaatje (or Maatje) BOEREE 1735 -
............................................................ +Evert ROEST
...................................................... 6 Elisabeth BOEREE 1737/38 - 1814
............................................................ +Johan van de KASTEELEN
...................................................... 6 Judikje (or Judith) BOEREE 1740 - 1803
............................................................ +Abraham de REUS
...................................................... 6 Marietje BOEREE 1743 - 1801
...................................................... 6 Klaas BOEREE 1745 - 1802
............................................................ +Caatje GIJSBERT
...................................................... *2nd Wife of Klaas BOEREE:
............................................................ +Marijtje BOUMAN - 1795
...................................................... *3rd Wife of Klaas BOEREE:
............................................................ +Maria van AKEN - 1821
............................... 4 Louisje BOEREE 1675 -
............................... 4 Cornelis BOEREE 1678 -
...................................... +Margaritha van HALL
........................................... 5 Lena BOEREE 1708/09 -
................................................. +Jan Rosebeek
........................................... 5 Dirk BOEREE 1711 -
........................................... 5 Arnoldus BOEREE 1715 - 1786
................................................. +Guurtje (or Geertje) van Dijk - 1735
...................................................... 6 Isaak BOEREE 1734 - 1734
...................................................... 6 Cornelis BOEREE 1735 - 1770
........................................... *2nd Wife of Arnoldus BOEREE:
................................................. +Goverijntje( or van HOUTEN (or Houtum)
...................................................... 6 Johanna BOEREE 1737 -
...................................................... 6 Dirk BOEREE 1740 - 1740
...................................................... 6 Dirk #2 BOEREE 1742 - 1742
...................................................... 6 Anna BOEREE 1744 - 1826
............................................................ +Hendrik Vrugt
...................................................... 6 Dirkje BOEREE 1746/47 - 1770
...................................................... 6 Dirk (3d) BOEREE 1750 - 1751
........................................... *3rd Wife of Arnoldus BOEREE:
................................................. +Martijntje van der Velde - 1769
...................................................... 6 Sara BOEREE 1759 - 1791
............................................................ +Pieter Adolf
...................................................... 6 Willem BOEREE 1761 - 1787
...................................................... 6 Elisabeth BOEREE 1762 -
...................................................... 6 Dirk BOEREE 1764 - 1833
............................................................ +Jansje TANDERS
................................................................. 7 Joseph BOEREE 1786 -
................................................................. 7 Arnoldus BOEREE 1787 - 1863
....................................................................... +Bartha COLJERIE 1787 - 1856
............................................................................ 8 Johannes BOEREE 1812 - 1863
................................................................................... +Helena (or Maria?) van der BERGH - 1854
........................................................................................ 9 Johannes Arnoldus BOEREE 1841 - 1849
........................................................................................ 9 Hendrik BOEREE 1843 - 1918
.............................................................................................. +Maria WESTENDORP - 1915
................................................................................................... 10 Hendrika Adriana BOEREE 1866 - 1901
................................................................................................... 10 Adriana Theodora BOEREE 1870 - 1947
......................................................................................................... +Jacob Camphuysen - 1946
................................................................................................... 10 Henri Reijnier BOEREE 1873 - 1949
......................................................................................................... +Helena Gerardina SCHOLTEN 1876 - 1918
.............................................................................................................. 11 Catharina Heripsima Marie BOEREE 1898 -
.............................................................................................................. 11 Marie Helene BOEREE 1900 -
................................................................................................... *2nd Wife of Henri Reijnier BOEREE:
......................................................................................................... +Anna Petronella van LENNEP - 1921
.............................................................................................................. 11 Aernout Anne BOEREE 1923 -
.............................................................................................................. 11 Karel Alexander BOEREE 1925 -
.................................................................................................................... +van Dierendonk
......................................................................................................................... 12 Christiaan Reinier BOEREE 1953 -
.............................................................................................................. 11 Pieter Reinier BOEREE 1926 - 2004
.................................................................................................................... +Adriana Magdalena DE GROOTE 1935 -
......................................................................................................................... 12 Judith Carlien BOEREE
......................................................................................................................... 12 Pieter Robbert Reinier BOEREE
.............................................................................................................. 11 Robert Machiel BOEREE 1929 -
................................................................................................... 10 Johan Arend BOEREE 1876 - 1880
................................................................................................... 10 Theodoor Alexander BOEREE 1879 - 1968
......................................................................................................... +Marianne de GOEJE
........................................................................................ 9 Maria Elisabeth BOEREE 1845 -
.............................................................................................. +Rudolfs
........................................................................................ 9 Johannes Franciscus Jacobus? BOEREE 1847 - 1940
.............................................................................................. +Wilhelmina Belis Michon 1845 -
........................................................................................ 9 Helena Catharina BOEREE 1850 - 1893
.............................................................................................. +Hendrikus Johannes BRAAM 1849 - 1898
............................................................................ 8 Jansje BOEREE 1813 -
................................................................................... +Hendrik Flierman
............................................................................ 8 Johanna BOEREE 1816 -
................................................................................... +Frans van Bruinsfoort
............................................................................ 8 Hendrik BOEREE 1818 - 1852
................................................................................... +Naatje van der Mark
............................................................................ *2nd Wife of Hendrik BOEREE:
................................................................................... +Margaretha Kemink 1823 -
........................................................................................ 9 Alida Theodora Kemink 1847 -
........................................................................................ 9 Hendrik Keemink (Boeree) 1849 -
............................................................................ 8 Arnoldus Jacobus BOEREE 1821 -
............................................................................ 8 Jacobus BOEREE 1823 -
............................................................................ 8 Anna Catharina BOEREE 1825 -
............................................................................ 8 Elizabeth BOEREE 1828 -
................................................................................... +Jan van den Bogaart 1826 -
............................................................................ 8 Helena Maria Rosina BOEREE 1831 -
................................................................................... +Lindeman
............................................................................ 8 Petrus BOEREE 1833 -
................................................................. 7 Hendrik BOEREE 1789 - 1838
....................................................................... +Jannetje Jonas 1795 -
................................................................. *2nd Wife of Hendrik BOEREE:
....................................................................... +Johanna Elzing 1789 - 1825
............................................................................ 8 Dirk BOEREE 1820 - 1895
................................................................................... +Maria Brakenburg 1821 - 1892
........................................................................................ 9 Cornelis BOEREE 1853 -
.............................................................................................. +Johanna Catharina Elisabeth Sernee 1853 -
................................................................................................... 10 Cornelis Boerée 1881 -
......................................................................................................... +Johanna Wilhelmina Rozenhart 1882 -
.............................................................................................................. 11 Cornelis Boerée
.................................................................................................................... +Maria Frederika Geertruida van der Horst
......................................................................................................................... 12 Lambertus (Bert) Boerée
................................................................................................................................ +Jo ?
..................................................................................................................................... 13 Ben Boereé
......................................................................................................................... 12 Wilhelmina (Willie) Boerée
................................................................................................................................ +Jaap Lenoir
......................................................................................................................... 12 Hendrikus Johannes (Henk) Boerée 1936 - 2002
................................................................................................................................ +Agnes Maria Anna (Ag) de Kruijff 1938 - 1992
..................................................................................................................................... 13 Rosalinda Wilhelmina Agnes Boerée 1961 -
........................................................................................................................................... +Gideon Rudolph Jacobs Deon 1960 -
................................................................................................................................................ 14 Werner Rudolph Jacobs Deon 1986 -
..................................................................................................................................... *2nd Husband of Rosalinda Wilhelmina Agnes Boerée:
........................................................................................................................................... +Kaiser Erasmus van der Schijff 1965 -
................................................................................................................................................ 14 Werner Jacob (Adopted) van der Schijff 1986 -
................................................................................................................................................ 14 Andrea Alexandra van der Schijff 1989 -
................................................................................................................................................ 14 Angelika Brigitte van der Schijff 1995 -
..................................................................................................................................... 13 Ronaldus Hendrikus (Ron) Boerée 1962 -
........................................................................................................................................... +Anna Botha 1965 -
................................................................................................................................................ 14 Cornelius (Corrie) Boerée
................................................................................................................................................ 14 Hendrikus (Henk) Boerée 1986 -
..................................................................................................................................... 13 Petronella Sophia (Petra) Boerée 1966 -
........................................................................................................................................... +Christopher Andrew Theunissen 1966 -
................................................................................................................................................ 14 Catharine Agnes Theunissen 1998 -
......................................................................................................................... 12 Cornelis (Kees) Boerée 1929 - 2004
................................................................................................................................ +Antonia Johanna Elizabet ten Wolde 1930 - 1994
..................................................................................................................................... 13 Cornelis Rudolf (Ruud) Boerée 1957 -
........................................................................................................................................... +Stina van de Maat 1959 -
................................................................................................................................................ 14 Cornelis Ruben Boerée 1990 -
................................................................................................................................................ 14 Matthijs Daniel Boerée 1994 -
..................................................................................................................................... 13 Elisabeth Antonia J. (Els) Boerée 1958 -
........................................................................................................................................... +Piet van Schie
................................................................................................................................................ 14 Tim van Schie
................................................................................................................................................ 14 Rik van Schie
................................................................................................................................................ 14 Niels van Schie
..................................................................................................................................... 13 Jose Boerée 1963 -
.............................................................................................................................................+Andrie van Diepen
................................................................................................................................................ 14 Leonie van Diepen
................................................................................................................................................ 14 Colien van Diepen
..............................................................................................................................................+Erik Wenning
................................................................................................................................................ 14 Manon
......................................................................................................................... 12 Antonius Peterus (Ton) Boereé 1943 -
................................................................................................................................ +Sophia van der Lucht
..................................................................................................................................... 13 Rika Boereé
..................................................................................................................................... 13 Anthonius Jr. Boereé
..................................................................................................................................... 13 Ben Boereé
.............................................................................................................. 11 Lambertus (Bert) Boerée
.............................................................................................................. 11 Wilhelmina (Mien) Boerée
.............................................................................................................. 11 Henk Boerée
.................................................................................................................... +Maria Zomers or Somers
......................................................................................................................... 12 Annie (Adopted) Boerée
.............................................................................................................. 11 Marie (Rietje) Boere
.................................................................................................................... +Antom Howeling
................................................................. 7 Martijntje BOEREE 1791 - 1792
................................................................. 7 Willem BOEREE 1793 -
................................................................. 7 Martinus BOEREE 1798 -
....................................................................... +Marytje Hense or Kense - 1836
................................................................. *2nd Wife of Martinus BOEREE:
....................................................................... +Catharina Bruijns or Bruining 1798 - 1828
................................................................. 7 Jacobus BOEREE 1795 -
....................................................................... +Johanna Kuipers or Kuurpers?
................................................................. *2nd Wife of Jacobus BOEREE:
....................................................................... +Maria de Bruin 1798 -
............................................................................ 8 Jacobus BOEREE 1825 -
................................................................................... +Maria Booms 1825 -
........................................................................................ 9 Jacobus Boerée 1849 -
.............................................................................................. +Maria Schornagel 1849 -
................................................................................................... 10 Jacobus Boeré 1870 -
......................................................................................................... +Marie ??
.............................................................................................................. 11 Arnoldus Boeré
................................................................................................... 10 Hendrik Boeré 1884 -
.............................................................................................................. 11 Jantje Boeré 1909 -
.............................................................................................................. 11 Jacobus Boeré 1912 -
.................................................................................................................... +Annegina Willemina Sterenborg 1912 -
......................................................................................................................... 12 Hendrik Boeré 1938 -
................................................................................................................................ +Grietje Hofkamp 1942 -
..................................................................................................................................... 13 Peter Vincent Boeré 1965 -
..................................................................................................................................... 13 Inge Marion Boeré 1968 -
.............................................................................................................. 11 Hendrik Boeré 1917 -
...................................................... 6 Jacobus BOEREE 1766 -
............................................................ +Josina Messie
...................................................... 6 Maria BOEREE 1769 - 1770
............................... 4 Antje BOEREE 1685 -
.................... 3 Lysbeth BORRY (Later BOEREE) 1638 -
.................... 3 Michiel Jansz. BORRY (Later BOEREE) 1643 -
.......................... +Marijtje CORNELIS
............................... 4 Styntje (Christyntje) BORRY (Later BOEREE) 1675 - 1723
............................... 4 Anna BORRY (Later BOEREE) 1676/77 -
............................... 4 Jan BORRY (Later BOEREE) 1680 -
............................... 4 Lysbeth Michiels BORRY (Later BOEREE) Unknown - 1741
...................................... +Philippus van Stralen
............................... 4 Dirkje Michiels BORRY (Later BOEREE) Unknown - 1741
.................... 3 Beeltje Jans BORRY (Later BOEREE) 1645/46 -
......... 2 Dirk (Dirric?) BORRY (Later BOEREE) 1612 -

---
You may contact me at cgboeree@comcast.net