The Evolution of English

George Boeree

---

The English language begins with the Anglo-Saxons. The Romans, who had controlled England for centuries, had withdrawn their troops and most of their colonists by the early 400s. Attacks from the Irish, the Picts from Scotland, the native Britons, and Anglo-Saxons from across the North Sea, plus the deteriorating situation in the rest of the Empire, made the retreat a strategic necessity. As the Romans withdrew, the Britons re-established themselves in the western parts of England, and the Anglo-Saxons invaded and began to settle the eastern parts in the middle 400s. The Britons are the ancestors of the modern day Welsh, as well as the people of Britanny across the English channel. The Anglo-Saxons apparently displaced or absorbed the original Romanized Britons, and created the five kingdoms of Northumbria, Mercia, Kent, East Anglia, Essex, Sussex, and Wessex (see map below). Notice that the last three are actually contractions of East Saxon, South Saxon, and West Saxon, and that the Welsh still refer to the English as Saxons (

Saesneg

).

The language we now call English is actually a blend of many languages. Even the original Anglo-Saxon was already a blend of the dialects of west Germanic tribes living along the North Sea coast: The Saxons in Germany and eastern Holland, the Jutes, possibly from northern Denmark (the area now called Jutland), and the Angles, probably living along the coast and on islands between Denmark and Holland. It is also likely that the invaders included Frisians from northern Holland and northern Franks from southern Holland (whose relatives gave their name to France). The dialects were close enough for each to understand the other.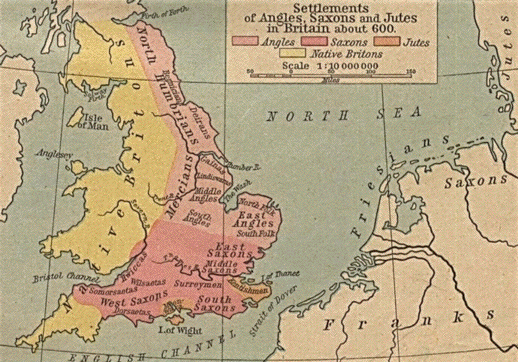 Later, in the 800s, the Northmen (Vikings) came to England, mostly from Denmark, and settled in with the Anglo-Saxons from Yorkshire to Norfolk, an area that became known as the Danelaw. Others from Norway ruled over the people in the northwest, from Strathclyde to the north of Wales. The Norse language they spoke resembled Anglo-Saxon in many ways, but was different enough for two things to happen: One, there were many Old Norse words that entered into English, including even such basic ones as they and them; And two, the complex conjugations and declensions began to wither away as people disagreed about which to use!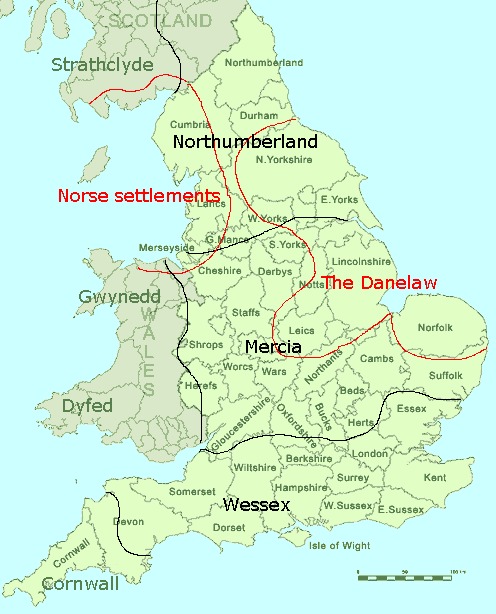 Last, William the Conqueror and his Norman supporters invaded England in 1066. Although, as their name suggests, they were the descendents of the same Northmen that had invaded England earlier, they had been settled long enough in Normandy in the north of France to adopt a dialect of French. They brought this Norman French with them to England and kept it as the language of their newly imposed aristocracy. In the day-to-day need to communicate, the common language became English, but with a large number of French words, and still more withering of grammatical complexities.

English since then has been absorbing vocabulary from a huge number of sources. French, the language of diplomacy for Europe for centuries, Latin, the language of the church, and Greek, the language of philosophy and science, contributed many words, especially the more "educated" ones. Other European languages have left culturally specific words. The American Indian languages, Australian Aborigine languages, and the languages of Africa and India gave us many hundreds of words, especially for the innumerable species of plants and animals of the world. On top of all this, there is the steady creation of new words and new uses for old words by the many subcultures of the English speaking world.


---

English's closest relatives can be found right across the water in Holland and Germany. It's very closest relative is Frisian, spoken in northern Holland and the islands running along the coast from Holland up into Denmark. Notice some obvious similarities:

English Frisian Dutch German

as as als als
bread brea brood Brot
chaff tsjêf kaf Kaf
cheese tsiis kaas Käse
church tsjerke kerk Kirche
cow kou koe Kuh
day dei dag Tag
dove dou duif Taube
dream dream droom Traum
ear ear oor Ohr
flea flie vlo Floh
flown flein gevlogen geflogen
fly fleane vliegen fliegen
goose goes gans Gans
great great groot gross
ground groun grond Grund
hail heil hagel Hagel
head haed hooft Haupt
heap heap hoop Haufe
hear hear hoor Hören
him him hem ihm
is is is ist
it it het es
lain lein gelegen gelegen
lay lei lag lag
nail neil nagel Nagel
need noot noot Not
nose noas neus Nase
rain rein regen Regen
salt sâlt zout Salz
say sei zeg sag
seed sied zaad Saat
sleep sliepe slaap schlaff
soft sêft zacht sanft
think tinke denken denken
thought tocht dacht dachte
through troch door durch
thumb tomme duim Daum
to to toe zu
Tuesday tiisdei dinsdag Dienstag
under ûnder onder unter
us ús ons uns
way wei weg Weg
yesterday juster gisteren gestern

From Brea en Griene Tsiis: Bread and Green Cheese by William Z. Shetter [http://home.bluemarble.net/~langmin/]

---

Here is a sample of Frisian, the article on the Frisians from the Frisian Wikipedia:


De Friezen binne in Germaansk folk, troch Tacitus rekkene ta de Ingvaeones, de Germaanske folken oan de Noardseekust.

Oan it begjin fan ús jiertelling skreaunen de Romeinen fan de Friezen oan de kust fan de Noardsee. Om't de Friezen útwreiden nei it suden wylst de Romeinen nei it noarden kamen, moeten de twa folken inoar, en doe't de Romeinen in grins fêststeld hienen, wienen der Friezen binnen en bûten it Romeinske Ryk. De Romeinen hienen it oer Frisiavones foar de minsken dy't besuden de Ryn wennen, en dermei part fan it ryk wienen, en fan Frisii foar de lju oer de Ryn, dy't gjin fêst part fan it ryk wienen, al waarden se al troch de Romeinen betwongen. Sjoen troch de eagen fan de Romeinen wienen de Frisii in nuver folk, om't se libben yn in gebiet dat twa kear deis ûnder wetter rekke.

Meidat de Romeinen weifoelen, begûn de groei fan it Fryske gebiet op 'e nij. Mei it grutte folkeferfarren kamen se mei de Angel-Saksen nei Ingelân, dêr't se harren fêstigen yn de eastlike kriten. De Friezen gouwen yn dy tiid as in folk fan seefarders; sa lyk dat de Noardsee yn dy tiid de Mare Frisicum (Fryske See) neamd waard. It Fryske ryk woeks út oant it yn de 7e ieu rikte oan de Weser yn it easten ta, en oant Brugge yn it suden. Stêden as Utert en Dorestêd moatte wichtige Frykse hannelsstêden west hawwe.

Yn it lege lân libben de Friezen yn in altyd trochgeande kriich mei it wetter. Oan de iene kant wie dêr de see, oan de oare kant it fean, dat omleech gong as it bewenne waard. De Friezen bouden terpen, en letter ek diken as beskerming.
---

To understand these relationships better, here is the Germanic languages family tree: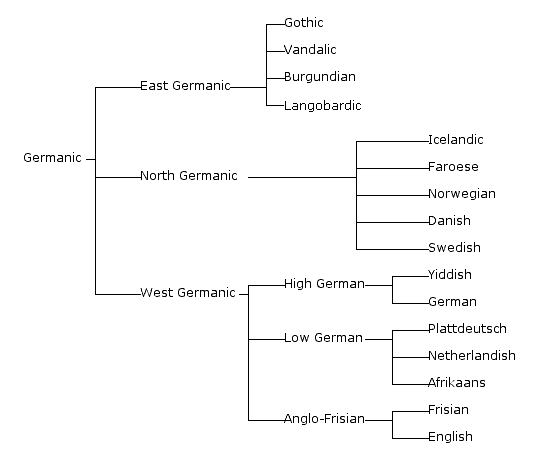 You get a better sense of the relationships by looking at the numbers in some of the ancient and modern languages:


Proto-
Germanic

Gothic

Old Norse
Old High German
Old Low German
Old Low Frankish

Proto-
Anglo-
Frisian

Old West Frisian
Old Scottish
Old English
ainaz
twai
thrijiz
fidwor
fimfi
sehs
sibum
ahto
niwun
tehun

ains
twai
þreis
fidwor
fimf
saíhs
sibun
ahtau
niun
taíhun
einn
tveir
þrir
fjorir
fimm
seks
sjau
atta
niu
tiu
ein
zwa
drio
fior
fimf
sehs
sibun
ahto
niwun
zehan
en
twa
drio
fiwar
fif
sehs
sibun
ahto
nigun
tehan
en
twa
dri
ver
vif
sehs
seven
ahto
nigun
ten

an
twa
thre
fiowor
fif
sex
sewen
ahta
nigun
tehun
an
twa
thre
fiower
fif
sex
sowen
achta
niogen
tian
ane
twa
thrie
fouwer
fyve
sax
sieven
aught
nyne
tene
an
twa
thri
feower
fif
sex
seofon
eahta
nighon
tyn
Icelandic

Norwegian

Danish

Swedish

German

Low German

Dutch

Frisian

Scots

English

einn
tveir
þrír
fjórir
fimm
sex
sjö
átta
níu
tíu
en
to
tre
fire
fem
seks
sju
åtte
ni
ti
én
to
tre
fire
fem
seks
syv
otte
ni
ti
en
två
tre
fyra
fem
sex
sju
åtta
nio
tio
eins
zwei
drei
vier
fünf
sechs
sieben
acht
neun
zehn
een
twee
dree
veer
fief
söß
söven
acht
negen
teihn
een
twee
drie
vier
vijf
zes
zeven
acht
negen
tien
ien
twa
trije
fjouwer
fiif
seis
sân
acht
njoggen
tsien
ane
twa
thrie
fower
fyve
sax
seiven
aicht
nyne
ten
one
two
three
four
five
six
seven
eight
nine
ten
---

Anglo-Saxon or Old English was pronounced quite differently from Modern English. P, b, t, d, m, n, l, and r were pronounced as they are today. The letters k, q, v, x, and z were not used. But then the trouble begins:

A number of letters change pronunciation depending on what letters are around them. F and s were pronounced as they are today, unless they were between two vowels or a vowel and a voiced consonant, in which case they were pronounced v and z respectively. The same goes for the distinctly unmodern letters thorn (þ) and eth (ð). Both were pronounced like the th in thin, unless between vowels (etc.), in which case they were pronounced like the th in then.

C and g had another set of variations: Before back vowels (a, o, and u), they were pronounced like c in cat and g in guess; before front vowels (y, i, e, and æ), they were pronounced like ch in chat and y in yes. The same goes for h: At the beginning of a word, is is pronounced like our h; otherwise, next to back vowels, it sounded like the ch in the German name Bach; next to front vowels, it sounded like the ch in the German word ich.

Plus, there were several double consonants: sc was pronounced like sh in ship; cg was pronounced like the j and dg in judge; hl, hr, hn, and

hw

were pronounced like l, r, n, and w but unvoiced (breathy).

Vowels are actually pretty easy. The short vowels were a as in Bach, e as in bet, i as in bit, o as in cot (pronounced as they do in England today), u as in book, y as in French tu or German ü, and æ (ash) as in bat. The long vowels, often marked with an accent acute (´), were á as in father, é like the French é, í as in beet, ó as in French eau, ú as in boot, and y and æ as longer versions of themselves.

There were also three double vowels, each with short and long versions: ea was eh or ay followed by ah, eo was eh or ay followed by a short o, and ie was ih or ee followed by eh. But you can get a sense of the sound of Old English if you just pronounce the vowels as you might in Italian or Spanish.

Here are some samples of Anglo-Saxon, from Instant Old English, by Catherine N. Ball [http://www.georgetown.edu/faculty/ballc/oe/old_english.html]:

Ic grete þe -- I greet you
Wes þu hal; Hal wes þu; Sy þu hal; Wes gesund; Beoð ge gesunde -- Hail! Farewell!
Wilcume -- Welcome!
Wilcuman la, mine hlafordas -- Welcome, my lords!
Leofe broðra -- Dear brothers
Sweostor min -- My sister, ...
Leof -- Friend, ... (or Sir, ...)
Hlaford min -- My lord, ...
Hlæfdige min -- My lady, ...
Hwæt eart þu? -- Who are you?
Beowulf is min nama -- My name is Beowulf
Min nama is Michael -- My name is Michael
Wa me -- Woe is me!
Eala -- Alas! Lo!
La -- Lo! Oh! Ah!
Wa la wa -- Woe!
Giese; Gea -- Yes
Nese -- No
Ic þe þancas do -- Thank you [I give you thanks]
Ic sæcge eow þancas -- Thank you [I say you thanks]
Ic þancie þe -- Thank you [I thank you]
Soð is þæt þu segst! -- What you say is true!
Wel þu writst -- You write well
Ic nat -- I don't know
[Note the letters thorn (þ) and eth (ð). They should look like a b with a long downstroke and a d with a cross bar, in case they don't register on your browser!]


---

Here is the prologue of Beowulf, from the McMaster Beowulf site:

Hwæt! We Gardena in geardagum,
þeodcyninga, þrym gefrunon,
hu ða æþelingas ellen fremedon.
Oft Scyld Scefing sceaþena þreatum,
5
monegum mægþum, meodosetla ofteah,
egsode eorlas. Syððan ærest wearð
feasceaft funden, he þæs frofre gebad,
weox under wolcnum, weorðmyndum þah,
oðþæt him æghwylc þara ymbsittendra
10
ofer hronrade hyran scolde,
gomban gyldan. þæt wæs god cyning!
Ðæm eafera wæs æfter cenned,
geong in geardum, þone god sende
folce to frofre; fyrenðearfe ongeat
15
þe hie ær drugon aldorlease
lange hwile. Him þæs liffrea,
wuldres wealdend, woroldare forgeaf;
Beowulf wæs breme (blæd wide sprang),
Scyldes eafera Scedelandum in.
20
Swa sceal geong guma gode gewyrcean,
fromum feohgiftum on fæder bearme,
þæt hine on ylde eft gewunigen
wilgesiþas, þonne wig cume,
leode gelæsten; lofdædum sceal
25
in mægþa gehwære man geþeon.
Him ða Scyld gewat to gescæphwile
felahror feran on frean wære.
Hi hyne þa ætbæron to brimes faroðe,
swæse gesiþas, swa he selfa bæd,
30
þenden wordum weold wine Scyldinga;
leof landfruma lange ahte.
þær æt hyðe stod hringedstefna,
isig ond utfus, æþelinges fær.
Aledon þa leofne þeoden,
35
beaga bryttan, on bearm scipes,
mærne be mæste. þær wæs madma fela
of feorwegum, frætwa, gelæded;
ne hyrde ic cymlicor ceol gegyrwan
hildewæpnum ond heaðowædum,
40
billum ond byrnum; him on bearme læg
madma mænigo, þa him mid scoldon
on flodes æht feor gewitan.
Nalæs hi hine læssan lacum teodan,
þeodgestreonum, þon þa dydon
45
þe hine æt frumsceafte forð onsendon
ænne ofer yðe umborwesende.
þa gyt hie him asetton segen geldenne
heah ofer heafod, leton holm beran,
geafon on garsecg; him wæs geomor sefa,
50
murnende mod. Men ne cunnon
secgan to soðe, selerædende,
hæleð under heofenum, hwa þæm hlæste onfeng.
---

The period of Middle English is roughly from 1150 to 1475. The main dialects of Middle English were:

Northern (corresponding to the original Northumberland)
Midlands (the original Mercia)
Southern (the original Wessex)

Some of the main characteristics of these dialects follow. Notice how modern English takes some things from northern Middle English (the plural of nouns and the third person singular of verbs, for example) and some from southern Middle English (the long o in words like stone and the ch sound instead of the k in words like church). Some of these choices were conscious ones, made by scholars in the service of the King.

Plural pronouns

Northern they, their, them
Midlands they, hir, hem
Southern hi, hir, hem

Verb third person singular

Northern -s (hits)
Midlands -th (hitteth)
Southern -th (hitteth)

Verb plural

Northern -s (hits)
Midlands -en (hitten)
Southern -eth (hitteth)

Old English long o

Northern a (stan)
Midlands o (stone)
Southern o (stone)

Old English c

Northern k (ik, kirk)
Midlands ch (ich, chirch)
Southern ch (church)

Old English f

Northern f (fox)
Midlands f (fox)
Southern v (vox)


---
Here is an example of Middle English: The first paragraphs of the Tale of the Wife of Bath, from the Librarius Chaucer site. The words in blue link you back to their glossary.

Heere bigynneth the Tale of the Wyf of Bathe.
| | |
| --- | --- |
| | In th'olde dayes of the Kyng Arthour, |
| | Of which that Britons speken greet honour, |
| 865 | All was this land fulfild of fayerye. |
| | The elf-queene, with hir joly compaignye, |
| | Daunced ful ofte in many a grene mede. |
| | This was the olde opinion, as I rede; |
| | I speke of manye hundred yeres ago. |
| 870 | But now kan no man se none elves mo, |
| | For now the grete charitee and prayeres |
| | Of lymytours and othere hooly freres, |
| | That serchen every lond and every streem, |
| | As thikke as motes in the sonne-beem, |
| 875 | Blessynge halles, chambres, kichenes, boures, |
| | Citees, burghes, castels, hye toures, |
| | Thropes, bernes, shipnes, dayeryes, |
| | This maketh that ther been no fayeryes. |
| | For ther as wont to walken was an elf, |
| 880 | Ther walketh now the lymytour hymself |
| | In undermeles and in morwenynges, |
| | And seyth his matyns and his hooly thynges |
| | As he gooth in his lymytacioun. |
| | Wommen may go saufly up and doun. |
| 885 | In every bussh or under every tree |
| | Ther is noon oother incubus but he, |
| | And he ne wol doon hem but dishonour. |
| | |
| --- | --- |
| | And so bifel it that this kyng Arthour |
| | Hadde in his hous a lusty bacheler, |
| 890 | That on a day cam ridynge fro ryver; |
| | And happed that, allone as she was born, |
| | He saugh a mayde walkynge hym biforn, |
| | Of whiche mayde anon, maugree hir heed, |
| | By verray force he rafte hir maydenhed; |
| 895 | For which oppressioun was swich clamour |
| | And swich pursute unto the kyng Arthour, |
| | That dampned was this knyght for to be deed, |
| | By cours of lawe, and sholde han lost his heed - |
| | Paraventure, swich was the statut tho - |
| 900 | But that the queene and othere ladyes mo |
| | So longe preyeden the kyng of grace, |
| | Til he his lyf hym graunted in the place, |
| | And yaf hym to the queene al at hir wille, |
| | To chese wheither she wolde hym save or spille. |
---

The evolution of the personal pronouns gives you a sense of the changes from Anglo-Saxon through Middle English to Modern English (oblique replaces accusative and dative):

Anglo-Saxon

nom ic wé þú gé hé héo hit híe
acc mé ús þé éow hine híe hit híe
dat mé ús þé éow im hire him heom
gen mín úre þín éower his hire his hira/heoras

Late Middle English

nom I we thou ye he she hit they
obl me us thee you him hir hit hem/them
gen my oure thy your his hir his hir/their

Modern English

nom I we - you he she it they
obl me us - you him her it them
gen my our - your his her its their


---

The Great English Vowel Shift

From Old English to Middle English to Modern English, the vowels have obviously shifted. This accounts for a great deal of the difference between English words and their Frisian and Dutch counterparts. For better or worse, our spelling still reflects these earlier pronunciations. The most dramatic changes occured between the late part of Middle English and the early part of Modern English, and didn't stabilize until about 1600. This is known as the Great English Vowel Shift!

Originally, the long vowels were literally long versions of the short vowels, that is, they were held longer, as they are still in Dutch. These long vowels shifted "up," that is, they were pronounced with the tongue higher in the mouth, so that long e (like French é) shifted to its present ee position, and long o (like French eau) went to its modern oo position. Long i (which was pronounced like ee today) and long ou (like oo in boot today) had no where higher to go, so they became the diphthongs they are today (as in bite and bout). The short vowels, on the other hand, moved very slightly "down." The original diphthongs ai (then pronounced like our long i in kite) and au (then like our ou in house) became our long a (as in bate) and aw sound. In some positions, long u (our oo in boot) became our long u (as in mute). Note also that the "silent e" was not originally silent! It was originally pronounced like a short e, became the nondescript "schwa" (like the a in ago), and then finally disappeared, but not before defining the preceding vowel as long!

Consonants also changed, but not as dramatically. In fact, it was the Frisians and Dutch who changed their consonants more! One change was the dropping of l's between vowels and consonants (so talk became "tawk"). Another is the way that gh -- originally pronounced like the ch in Bach -- became y after front vowels and w after back vowels (so night > niyt and through > throuw), and by the 1500's disappeared altogether. One more is the silent k in words like know and knight, which was originally pronounced. Knight, in fact, was originally pronounced as spelled, which makes it much closer to the Dutch knecht, meaning man-servant! Finally, several dialects began to drop r's after vowels until, by the 1600's, r-dropping was the standard for the Queen's English.

Here are the changes in IPA: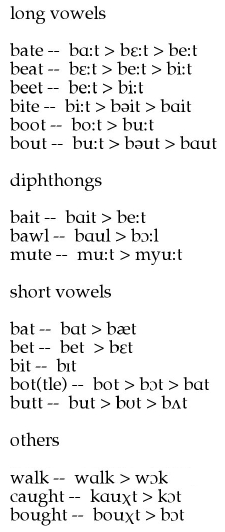 ---
The grammar of English is perhaps the most interesting story: It went from a typical old Indo-European language, with many complex and irregular verb conjugations and noun declensions, to arguably the most isolating Indo-European language to date. (Afrikaans - a close relative of Dutch spoken in South Africa - probably beats it by a smidgen.)
Anglo-Saxon nouns, their articles, and even adjectives were complex. There were three genders, masculine, feminine, and neuter:
| | | |
| --- | --- | --- |
| Stone | singular | plural |
| nominative | se stan | þa stanas |
| accusative | þone stan | þa stanas |
| dative | þæm stane | þæm stanum |
| genitive | þæs stanes | þara stana |
| | | |
| --- | --- | --- |
| Tale | singular | plural |
| nominative | seo talu | þa tala |
| accusative | þa tale | þa tala |
| dative | þære tale | þæm talum |
| genitive | þære tale | þata tala |
| | | |
| --- | --- | --- |
| Ship | singular | plural |
| nominative | þæt scip | þa scipu |
| accusative | þæt scip | þa scupu |
| dative | þæt scipe | þæm scipum |
| genitive | þæs scipes | þara scipa |
As in most Indo-European languages, gender had little to do with reality:
Masculine

Feminine

Neuter

wifmann (woman)
stan (stone)
aþ (oath)
bat (boat)
hlaf (loaf) )
mete (food)
glaf (glove)
ecg (edge)
hwil (a while)
sceadu (shadow)
miht (might)
tid (time)
mægden (girl)
scip (ship)
ban (bone)
bedd (bed)
wedd (pledge)
spere (spear)
Anglo-Saxon verbs were a bit easier, as they had already evolved away from older Indo-European traditions along with the other Germanic languages. There were only two tenses, a present and a past. Here is the word for kiss:
present singular

present plural

past singular

past plural

ic cysse
thu cyssest
he cysseth

we cyssath
ic cyste
thu cystest
he cyste

we cyston
Modern English only really has six grammatical affixes left:
-s
for plural nouns,
-'s
for genitive nouns,
-s
for third person singular verbs,
-ed
for the past tense,
-ed
the past participle, and
-ing
for the present participle. Unfortunately for learners of English, it still has several irregular verbs (e.g. to be and to have) and a large number of strong verbs (e.g. sing-sang-sung), plus a few irregular plurals (e.g. child-children, man-men...). Nevertheless, people around the world find English relatively easy, with one huge exception: English has the worst spelling of any language using the Latin alphabet! Unlike most other European languages, we have not had any major updates in spelling since Shakespeare's time, despite dramatic sound changes and innumerable borrowings from other languages.
---