PSYCHOLOGY BOOK CLUB

Shippensburg University

Psychology Book Club is open to all Shippensburg University students interested in reading books about psychology. Dr. Norwood is the faculty director of the club, however, the club belongs to the students! The book club reads a variety of fiction and non-fiction titles and the club members work collaboratively to choose the books. The book club meets at least once per semester for a shared group discussion. Additional events, such as movie nights based on a book, are sometimes held as well. If you would like to participate in the Psychology Book Club, please contact Dr. Norwood (ship e-mail: aenorwood) in the Psychology department.

Next Psychology Book Club meeting:

Breaking Women: Gender, Race, and the New Politics of Imprisonment

by Dr. Jill A. McCorkel (March, 16, 2022)

This list will be updated frequently and all discussion dates will be posted on the Psychology Related Events! page (Check often! It is frequently updated!).
Virtual Book Club Meeting over Zoom during COVID-19 period (May. 6, 2021)
---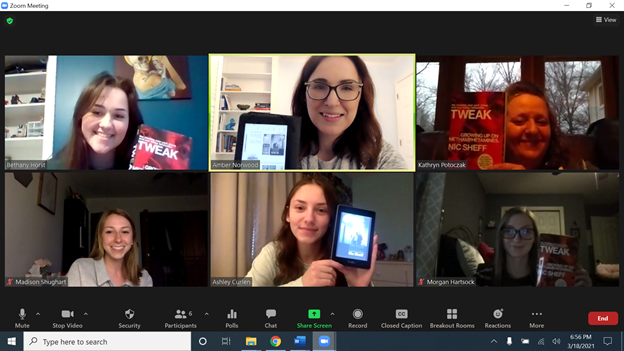 Virtual Book Club Meeting over Zoom during COVID-19 period (Mar. 18, 2021)

---
Virtual Book Club Meeting over Zoom during COVID-19 period (Fall 2020)
---
Virtual Book Club Meeting over Zoom during COVID-19 period (Spring 2020)

---