There have been many discussions and debates as to whether the internet (and online gaming) is a social outlet or a place where people go to isolate themselves. There has also been debate about how online gaming increases aggression and addiction. Some research even shows that online games may have an effect on social development, self-esteem, social inadequacy, and social anxiety (Cole and Griffith, 2007).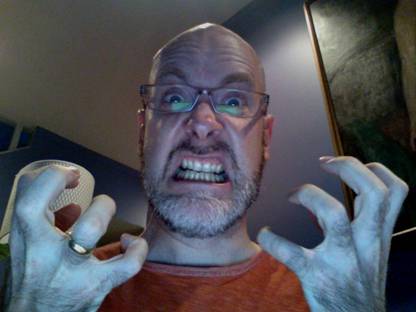 (Picture above provided by Rob Cottingham)
Massively Multiplayer Role Playing Games (MMORPGs), appeal to mainly male adults and teenagers from a wide range of backgrounds, but slowly the female gamer population is growing. These online multiplayer games almost demand social interaction due to how the game is set up. Most MMORPGs require that the players interact using test, image, and sound communication. Unfortunately most of these games, especially ones where character and game world buildup is required, involve participation which requires time commitment from players that may affect real life activities and relationships. According to Cole and Griffiths (2007), online games appear to play a role in the socialization of heavy game players. MMORPGs encourage group interaction and involvement, flexibility, and mastery, resulting in significant friendships and personal empowerment (Cole & Griffiths, 2007). Positive social interaction is extremely important in MMORPGs because they require many players to cooperate and work as a team at the same time. So the question is which is more important, online social interaction or real life relationships? There are arguments that say both are forms of healthy social interactions.
(Picture above provided by PlayOn)
Many researchers are interested in this subject matter and the question of what kind of social interactions are occurring online and how intimate are these relationships? One researcher from University of Jyvaeskylae (2007) claims that members of the multiplayer games share similarities to interaction in face to face groups, such as sharing values and goals. The researcher also states that the building blocks of identity, such as appearance and age, are insignificant in MMORPGs. When the members never meet face-to-face, they form perceptions of each other based on how active reliable, or skill level they are (University of Jyvaeskylae, 2007).
Other research done by Cole and Griffith (2007) wanted to explore the social interactions that occur both within and outside of MMORPGs. They sampled 912 self-selected players from 45 countries. The participants filled out surveys that consisted of demographic characteristics (age, gender, country of residence etc), as well as questions about friendships within the game, attraction to other players, meeting online friends in real life, and a number of topics players may share with each other. What they found was that 76.2% of males and 74.7% of females had made "good friends" with someone within the game. Also one portion of the participants said they were attracted to another player and even went as far as dating them. When it came to family relations, over one quarter of the participants played MMORPGs with family and real-life friends. The results for the offline vs. online friendships, 53.3% of the participants reported that their real-life friends were more trustworthy, but two fifths (39.9%) of the gamers said they discussed sensitive issues with their online gaming friends that they would not discuss with their real-life friends. This study showed that MMORPGs are highly socially interactive games.
A similar study was done relating to First Person Shooter Games (FPSG) by Jansz & Tanis (2007). Their objective was to gather information about who the players of online first person shooters are, and why they spend time playing this particular kind of video game. What they found from their online survey was that the respondents were exclusively young males. 80% of the respondents were part of a semi-professional clan (guild), which is group of gamers who form a team to compete against others over the internet in multiplayer games (Jupitermedia Corporation, 2008). This shows that the typical player of FPSG is not a loner who tries to escape from social interaction by playing video games. The study also showed that social interaction motive was the strong predictor of the time actually spent on gaming.
Project Massive is an ongoing study of online gaming communities. It was originally created to investigate the way Massively Multiplayer Online Games (MMOG) subscribers play, communicate, and organize. This study by Seay, Jerome, Lee, &Kraut (2004), claim that in addition to the fun of playing, players often form lasting relationships with the people they play with online. From their study, 39% of the players reported that the social experience was their primary reason for playing the games. The participants admitted to frequently using all of the major varieties of chat, such as broadcast, guild, group, and private, but voice communication conference calling and person-to-person calling were almost never used. The participants used the forms of communication to exchange support and advice, small talk, and coordination and scheduling of activities. Fewer respondents reported to sharing personal experiences and dealing with guild management issues while 69% of respondents said they communicate outside of the game with fellow gamers. Project Massive has shed some light on the effect of various communication patterns with online and offline relations, and the creation, operation, and maintenance of guilds. To learn more about Project Massive or to take one of their surveys, please click here.